Dr. Ramses V. Martinez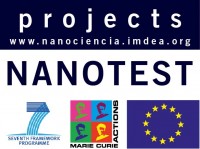 Funding :

FP7-PEOPLE-2010-IOF nº 275148
Bacterial resistance to antibiotics is one of the most important problems to be solvedin medicine. Most antibiotics are effective against 99.9% of the target microorganisms.However, the remaining ones carry mutations that allow resistance against that particular drug which are transmitted to their progeny, making them immune to the treartment. Therefore, new strategies are necessary for the design of antibiotics able to circumvent bacterial resistance.
During the last decade we have developed many nanoscale systems to effectively transport drugs whose efficiency has not been properly evaluated due to the lack of a reliable technique for individually confining microbes. During the last year, our research has been focused on the development of a new toxicological test based on individual confinement bacteria. We have developed microfluidic systems for microbiology applications using soft lithography. By combining micro-printing of bacteria with microfluidic devices a new generation of toxicology tests for bacteria have been developed (See Figure 1) which will help to study the toxicological effects of certain medications using nanoparticles with small bacterial colonies.

In order to deposit small bacterial colonies on a flat substrate (sealed by the microfluidic system) the microcontact printing (MCP) technique will be used. Subsequently, the devise will be closed by inserting a number of microfluidic channels which then will by used to flux different concentrations of antibiotic to establish its toxological effect on the printed bacteria. At present, the research is focused on testing the proper periodicity of the microfluidic channels, to maximize the interaction of the printed bacteria (currently, the E.coli AW405 strain) with different fluids introduced in the microfluidic device.
Figure 1. Left: Method for the patterning alive bacteria or cells using micro-contact printing. Right: Confocal microscope images showing the control on the shape of the printed cells. Each cell has a surface of approximately 900 μm2) Images obtained by fluorescence microscopy of cells confined to various shapes (all with areas of 900 μm2). The cells were stimulated with PDGF and stained with phalloidin and 4'-6-Diamidino-2-phenylindole to visualize F-actin (green) and nuclei (blue).
http://nanociencia.imdea.org/images/nanociencia/scientific_reports/Scientific-Report-2015.pdf#page=132