Esther Resines Urien
Research:
Switchable nanomaterials
User Name:
esther.resines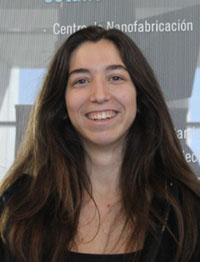 Esther finished her degree in Chemistry at Complutense University of Madrid in 2016. She obtained her Master's degree in Chemical Science and Technology from the same university in 2017. Currently, she is doing her PhD in the synthesis and characterization of SCO complexes with Fe(II) as metal and organic ligands based on triazoles. These complexes can be switched between two different electronic states by applying external perturbations, are promising materials thanks to their potential application in various fields, such as magnetism, electrical transport and sensing devices.