09.03.2022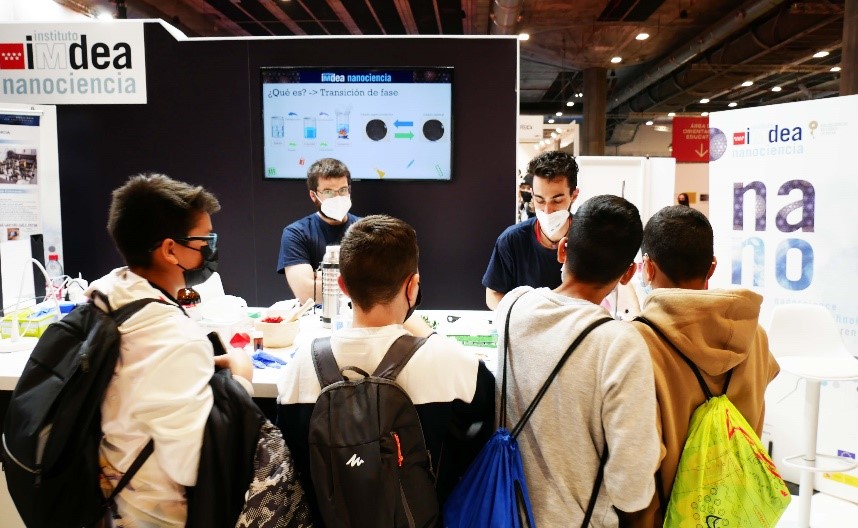 More than 20,000 attendees have visited the fair from Thursday 2nd to Sunday 5th of March.
This fair has been held in person at the IFEMA exhibition centre, after two years of inactivity, coinciding with the Education Week.
Madrid, March 9th 2022. 'Madrid Es Ciencia' has had 60 stands and the participation of schools and institutes, universities, scientific institutions, museums and Royal Science Societies. Among them, the Madrid Institutes of Advanced Studies IMDEA (Energy, Networks, Materials, Software, Food, Water and Nanoscience) have participated in a joint stand full of interesting activities. The fair has coincided with the International Student Exhibition AULA, the largest education fair in Spain.
The presence of IMDEA Nanociencia was an excellent opportunity to bring the research carried out in the center's laboratories closer to all audiences. With 11 different themes, the 50 researchers involved prepared various interactive experiences. In addition, there was a participation in the Agora of Madri+d with a talk by Dr. Sebastián Thompson about his research project, co-funded by the Spanish Association Against Cancer. In this way, the main objective of the fair was achieved: to stimulate curiosity about science and to convey to visitors the importance of Nanoscience and Nanotechnology in our society.
The XI Fair "Madrid es Ciencia", organized by the Foundation for Knowledge madri+d, at the initiative of the Community of Madrid, has closed its doors this weekend registering a number of visitors exceeding 20,000 people, thus exceeding the number of visitors of its last edition (2019). During its four days from 2 to 5 March, hall 14 of the IFEMA Madrid exhibition centre has turned its 3,000 square metres into the integral exhibition of the R&D&I capabilities of the Community of Madrid for the construction of a sustainable future, showing citizens, from a playful and participatory point of view, the response that Science, Technology and Innovation can give to the challenges of our planet.
---
More information
https://nanociencia.imdea.org/home-en/events/item/feria-madrid-es-ciencia?category_id=47
https://www.madrimasd.org/notiweb/noticias/regreso-feria-madrid-es-ciencia-supera-todas-las-previsiones-publico#utm_source=notiweb_newsletter&utm_medium=email&utm_campaign=noti3_08mar22
---
Contact
IMDEA Nanociencia Outreach Office
divulgacion.nanociencia [at]imdea.org
Twitter: @imdea_nano
Facebook: @imdeananociencia
Instagram: @imdeananociencia
---
Source: IMDEA Nanociencia