Horizon Europe is the 9th European Framework Programme funding research and innovation. The European Commission proposes a budget of €100 billion for 2021-2027. First calls are expected in January 2021.
Horizon Europe is proposed as the most ambitious research and innovation funding programme ever. Excellence in science will continue to be funded by the European Research Council and the Marie Skłodowska-Curie actions. Knowledge-based innovations and support by the European Innovation Council will drive forward the EU's industrial competitiveness and innovative performance. The overall aim of the new research programme is to expand the EU's science and technology base by investing more in highly qualified workers and cutting-edge research. Horizon Europe will help in achieving the EU's strategic priorities, such as implementing the Paris Climate Agreement and addressing other global challenges. The Horizon Europe programme is also guided by the United Nation's Sustainable Development Goals (SDGs).
What's new
Horizon Europe will be organised differently to fHorizon 2020 and include new elements and simplifications:
The

European Innovation Council

will become an integral part of Horizon Europe, with its own governance structures and research promotion instruments.
A new element in Horizon Europe is the

five EU-wide research and innovation mission areas

that aim to address major societal challenges, such as the spread of cancer and climate change, through ambitious and applied research and innovation activities conducted over the long term.

Open Science

will be the new modus operandi in Horizon Europe. The Open Access policy already applied in Horizon 2020 will be developed.

European partnerships

will be streamlined and consolidated.

Simpler rules

will increase legal certainty and reduce red tape for funding recipients and programme managers.
Preliminary structure of Horizon Europe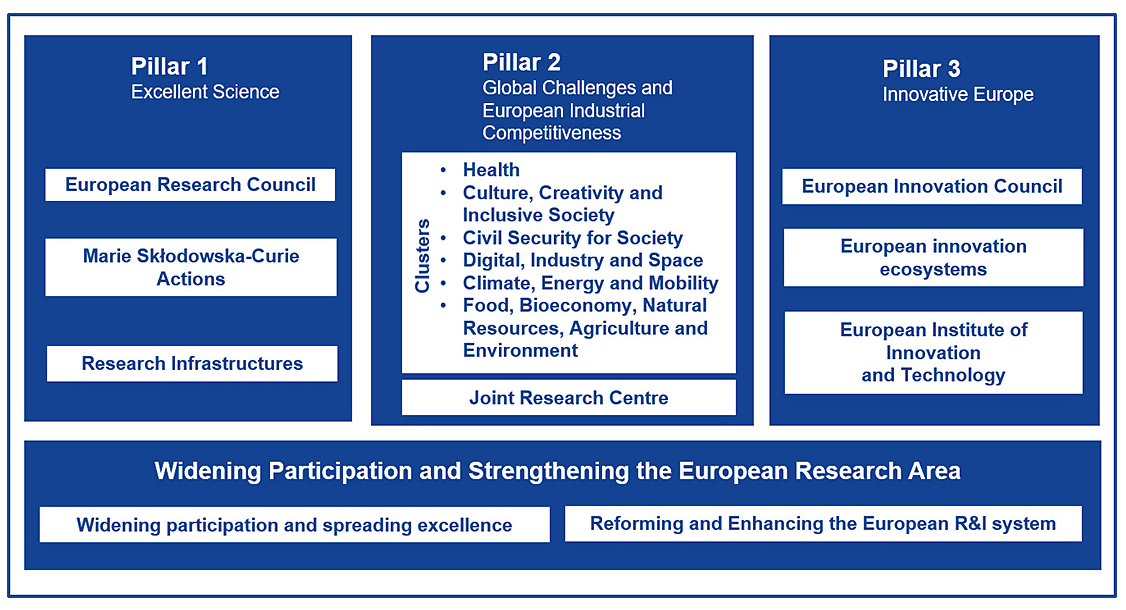 Source: European Commission
Progress on Horizon Europe Implementation Strategy
The European Commission has announced new developments regarding Horizon's Europe Implementation Strategy. The rules and simplification measures put in place for Horizon 2020 were widely acknowledged by stakeholders as a big step towards a more attractive programme. Based on this experience, work has been ongoing on Horizon Europe's Implementation Strategy to set out how the programme will be managed in practice to achieve its ambitious objectives. The Strategy is a living document thus it will receive further updates.
Horizon Europe's Implementation Strategy provides the framework for carefully designed rules and efficient processes across the entire programme and project life cycle. It allows the programme to deliver its impacts as efficient and user-friendly as possible.
The Strategy focusses on the following objectives:
Maximising impacts;

Ensuring greater transparency and further simplification;

Fostering synergies with other EU spending programmes;

Easing access through digital transformation and outreach.
For further information, see the European Commission's page on Horizon Europe