Sociedad
Nanociencia para todos is an outreach program arisen in response to the demand on popular science activities from the citizens of Madrid, a demand that we noticed trough the overwhelming attention of our proposals in the Semana de la Ciencia de Madrid. We believe that one of our duties is contributing to the creation of links between Science and Society in our region. Nanociencia para Todos is a regular "Open Days" activity in which we receive mainly students from the last years of high school. In 2016 we received over 300 students, teachers and citizens.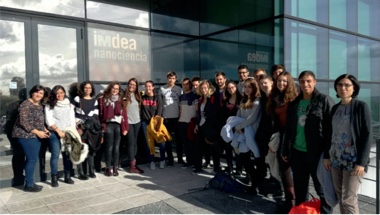 Madrid Biotechnology Association
XVI Semana de la Ciencia de Madrid 2016
This year IMDEA Nanociencia celebrated the XVI Semana de la Ciencia with a variety of events; two open-days, a radio interview and even a visit from the regional television!
8th of November 2016.
Radio interview
Dr. Ana Pizarro joined guests UAM researcher Dr. Isabel Guillamón and Madri+d's director Dr. Federico Morán, invited by host Capital Radio to communicate to the Madrid audience the activities to be carried out in the two-week Semana de la Ciencia in the Comunidad de Madrid.
https://twitter.com/Msanmartingc/status/795927562643980289?s=08
IMDEA Nanociencia Open Days
11th of November 2016.
Our visitors (IES San Isidro, Madrid and Colegio Internacional Aravaca, Madrid) were received by Dr. Teresa González who introduced our research with the lecture entitled Acércate a la Nanociencia: lo Pequeño es Diferente. Next we enjoyed showing some of our laboratories, in particular, on this day, our visitors, divided in six groups of ca. 12 people where guided through the building to take a look at the following labs:
Supramolecular Chemistry
Magnetic Nanoparticles
Nanomedicine
Femtosecond spectroscopy
Permanent magnets
Photon STM
16th November 2016
Telemadrid visits IMDEA Nanociencia
Journalist Maria Sáiz and her team visited IMDEA Nanociencia to have breakfast with our Director, Prof Rodolfo Miranda, and researchers Dr. Julio Camarero and Dr. Emilio Pérez, live in the programme "Desayunos Contigo" in Telemadrid Channel. Journalist Maria Sáiz and her team visited also visited the Nanofemtosecond Lab where she asked our researchers Dr. Juan Cabanillas and Dr. Cristina Flors about working abroad and the role of Women in Science, respectively.
18th November 2016
Following the Welcome lecture by Dr. Teresa González on the Acércate a la Nanociencia: lo Pequeño es Diferente), our guests (IESManuel de Falla, Móstoles and Instituto EFAValdemilanos, Colmenar Viejo, Madrid) visited the laboratories of Supramolecular Chemistry and Nanomedicine, as well as some additional visits:
Magnetic Nanoparticles
Nanophotonics
Advanced nano-optics
Photon STM
Optical Nanomanipulation
IES Manuel de Falla, Móstoles
Instituto EFA Valdemilanos, Colmenar Viejo, Madrid